Content copyright © Tramway Museum Society of Victoria Inc. Reproduced with permission.






The year 1906 saw the establishment of the first electric tramways in Melbourne's suburbs. The pioneer electric tramway in Australia had operated from 1889 to 1896 between Box Hill and Doncaster, but, in that period, Box Hill was really a nearby country town, with the tramway running north through the orchards and farms to Doncaster – a remarkable achievement.
Monday, May 7th, saw public service commence from the St. Kilda railway station on the line to Elwood, Brighton and Brighton Beach. The Victorian Railways were given the job of operating the line, with the official opening being on 5th May and trials and training commencing on 30th April. As the 7th May was a Sunday this year, it was felt that this was the appropriate day to commemorate the centenary. At Bylands, we arrange to operate a tram with a suitable placard on it. The placard was drafted by David Frost, a long time resident of the Brighton area, a society member, and a keen historian of both this line and the Sandringham line. By happy coincidence, David was rostered Motorman for the day. Unfortunately we did not have a conductor available that day, so a sliding door tram had to be used – SW2 644 "did the honours".
Before the trip commenced, an "official" photograph was taken in front of 644 of some members and visitors, and our salute to history made with a return trip to the Northern terminus. Two other placards were also kindly produced by Dean Filgate on his computer. One is in colour and has been placed on the Kiosk notice board and its twin (in black and white) is on our ex- V.R. Elwood tram no. 34 in No. 1 tram shed. David Frost has also written a brief history of the line, which he has delivered to local Historical Societies meetings. The text is being printed at present and will be available shortly in booklet format. rJ will keep members advised with it is available.
You will probably remember that we operated a special tram at 12.20pm on Sunday, 12th September 2004, at the suggestion of the Association of Tourist Railways, to commemorate the 150th anniversary of the first train from Flinders Street station to Sandridge (Port Melbourne) station, and w3 667 was used on that trip. The second half of the year will mark the centenary of the electric tram lines from Flemington Bridge to North Essendon and Saltwater (Maribyrnong) River. The official opening took place on 11th October, 1906 and we understand that Yarra Trams will be commemorating this occasion. Our Society will also mark the event, but, as the 11th falls on a Wednesday this year, we will have to decide if we will run a commemorative tram on the 8th or the 15th of that month.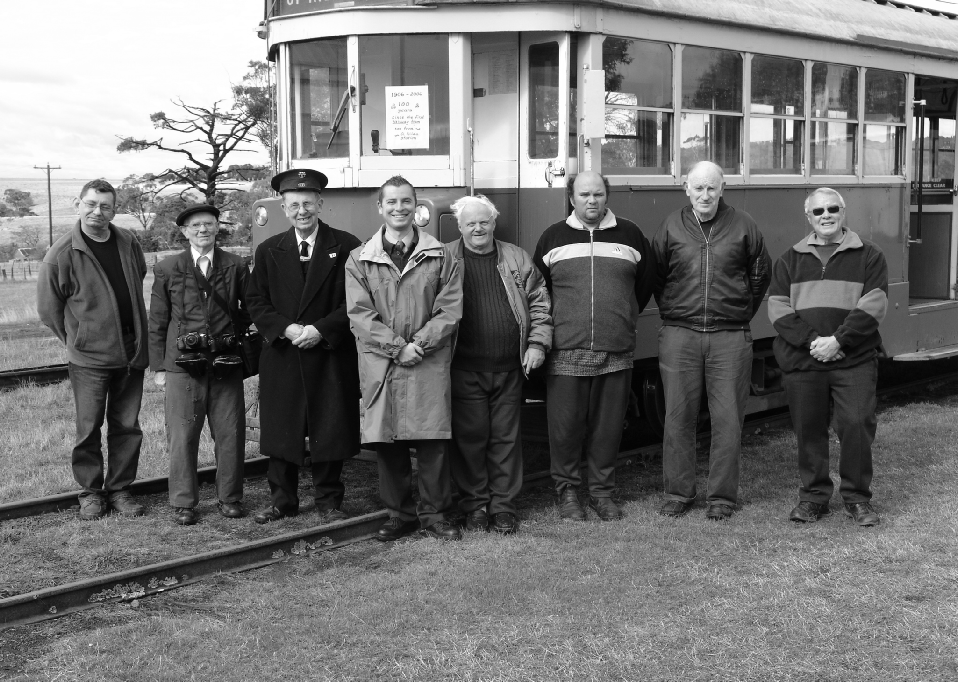 Top Left: Metlink issue tickets commemorating 100 Years Electric Trams.
Left: Bylands 7th May, the gathering, commemorating the anniversary. William Fedor
Top: St. Kilda—Brighton Beach Opening Ceremony. from The Brighton Electric Line, L Marshall-Wood
Middle: W2 644 with Handwritten sign for 100 years commemoration. William Fedor
Bottom: Essendon Tram Depot 1906. from The Essendon Tramways, J Richardson