BY PUBLIC TRANSPORT & TAXI
Train
V/Line train service to Wandong Railway Station (Seymour Line).
Taxi
Taxi service from Wandong to the Tramway Heritage Centre, Bylands.
(Please note that a taxi will need to be booked in advance)
Crown Cabs: 1300 12 13 14
This will take about 10 to 15 minutes by taxi from Wandong Railway Station.
The Tramway Heritage Centre, Bylands is located in the State of Victoria, at 330 Union Lane, Bylands, just off the Northern Highway, approximately 53 kilometres north of Melbourne (Melways edition 27 map 510 L10). It is located in an idyllic rural setting, with stunning views across a valley to Mount Disappointment and the Kinglake National Park.
Unfortunately the museum is not serviced by public transport, but it only takes about an hour from the Melbourne CBD via motor car.
The easiest route is to take the Hume Freeway (route M31) north of Melbourne, taking the Wallan exit for the Northern Highway (route B75). Proceed through the township of Wallan, up the hill known as Pretty Sally for about 7km. There is a brown tourism sign for the museum about 300m before the turn right into Union Lane. Proceed down Union Lane for about 300m and you have arrived.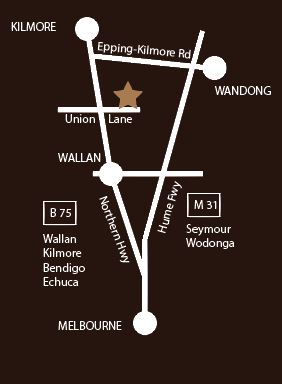 Content copyright © Tramway Museum Society of Victoria Inc. Reproduced with permission.