Content copyright © Tramway Museum Society of Victoria Inc. Reproduced with permission.



Maintaining a network as large as the Melbourne system was no easy feat. Over time the M&MTB converted many older trams to continue life as work trams. Several of such trams have been restored back into their original conditions, but as such the importance of the works trams needs to be acknowledged and preserved as well.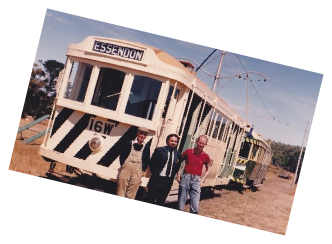 No.1
Rail Grinder
In Service: 1928
Withdrawn: 1971
Preserved: 1971 THC Bylands
This Heath Robinson type vehicle was built by Austral Otis in 1928, it was used to grind corrugations from rails and smooth newly laid track. Originally numbered 6A, it was renumbered in 1934 as No 1. It consists of a powered truck and a grinding trailer, all under one roof. Power to the grinding trailer is transmitted from the powered truck. This tramcar and its sister, No 2 were generally used at night. Both were involved in accidents in 1969, resulting in the scrapping of No 2, it's trailer being transferred to No 1.
7 W
Bogie Tank Car
In Service: 1920
Withdrawn: 1978
Preserved: 1986 THC Bylands
Originally built as No 7 in 1920, this was the first tramcar built by the M&MTB. It was used for flushing and scraping out rail grooves. It was modified in 1950 with weed killing equipment. In 1964 this tramcar was in a series collision, which resulted in the ends being rebuilt later that year using the end frames and cabins from W2 class tram No 356, together with some parts from W2 No 508.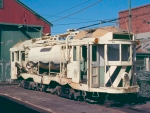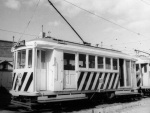 10 W
Scrubber Car
In Service: 1908 as K Class No.763 (Sydney)
Withdrawn: 2002 (M>Tram)
Preserved: 2002 THC Bylands
Built by the Meadowbank Manufacturing Company in 1908 for the Sydney tramway system. Originally a semi-enclosed, cross-bench tram; Sydney K class No 763. In 1952 it was converted to a scrubber tram in the Sydney works fleet. Serving briefly in Sydney before being purchased (along with sister car), by the M&MTB in 1959. In Melbourne it was repainted and renumbered No 10. It was repainted in cream with black "zebra" stripes in the mid 1960's. In 1975 it was renumbered 10W, to prevent confusion with Z class trams. It was overhauled in 1979, and repainted to its current colour scheme in 1988.
15 W
Sleeper Transport Car
In Service: 1923 as Q Class No.198
Withdrawn: 1986
Preserved: 1986 THC Bylands
This tram was built by the M&MTB Holden Street Workshops. The design was a single truck straight sill closed combination car. It was modified in 1936-7 for use as all night cars. When all night services ended in 1957 it was stored, and in 1959 converted to a freight car, renumbered as No 15. It was primarily used for transporting sleepers, other equipment, and as a locomotive for hauling No 24. In 1975 it was fitted with a light capacity crane for moving machinery and equipment around areas of depots that were inaccessible by other vehicles, and renumbered 15W.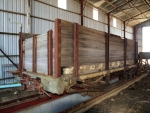 No. 24
Ballast trailer
In Service: 1925 (converted from unclassified passenger trailer)
Withdrawn: 1969
Preserved: 1976 THC Bylands
This vehicle was built in 1906 by Duncan & Fraser as a single truck open toast rack passenger trailer, for the NMETL. for use towed behind their electric tramcars. They were taken over by the M&MTB on acquisition of the NMETL, and numbered 51-60. All were withdrawn after a serious accident involving V No 214 and trailer No 58. In 1925, five of these trailers were converted for use as ballast trailers, one of which was numbered No 24. It was further modified in 1964 when the body sides were raised and bottom dumping hoppers fitted.